What Would Nick Do? On Building Relationships and Rebuilding a Life, with Mike Behringer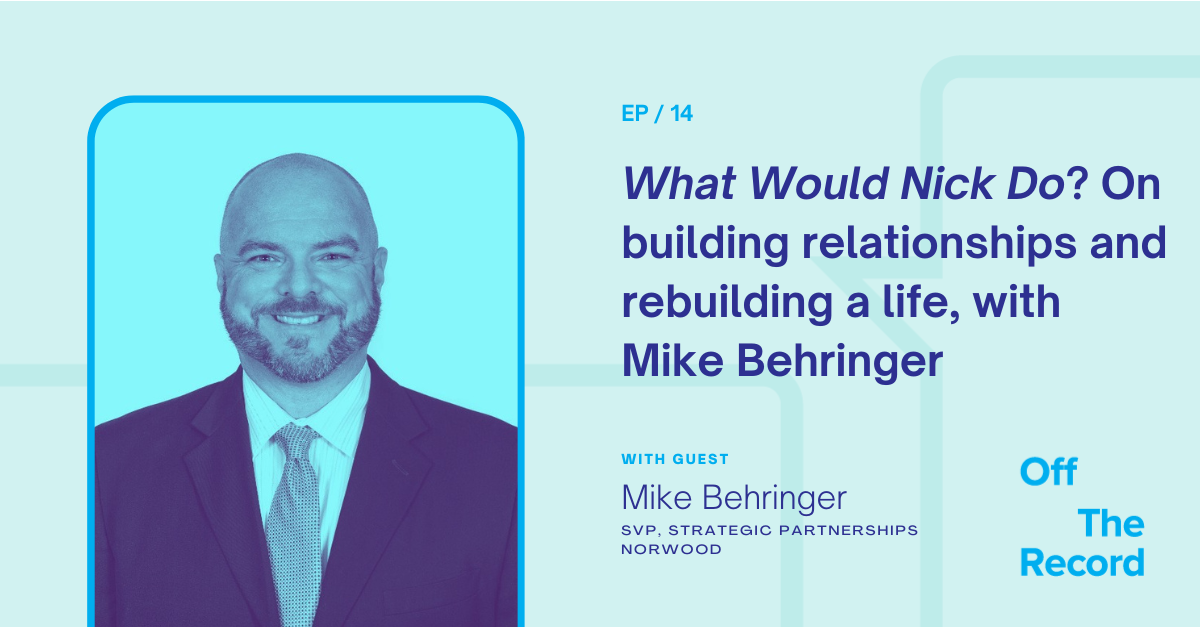 When I started Off the Record, I wanted to launch a program that served the broader industry that serves the health record.
That means, most of my guests work in the HIM/coding, CDI, case management, and trauma/oncology registry fields. But I also host folks who support the mid-revenue cycle—consulting, staffing, sales, legal, tech, and from time-to-time, members of my own company. And share their personal stories, too.
On the latest episode of OTR Mike Behringer and I start with his unique take on "sales." I put that in quotes because it's a word he doesn't care for all that much, at least in the context of his work.
Sales is a transaction where a product is exchanged; what Mike does is foster partnerships, with humor and personality.
There is something to learn from his approach, whether or not you're in "sales." We're all in the business of building relationships and forging partnerships.
We then switch to a very different, more painful, and personal subject—the tragic death of his son, Nick, age 21, in 2016.
If you follow Mike you know he drops the acronym WWND—What Would Nick Do—into his regular rotation of posts. But if you're like me, you also never heard what happened that terrible night that stretched into long unknown hours, ending in the worst possible outcome. Or how Mike has rebuilt his life over the last seven years.
We get into this on the show.
I found myself at a loss for words, but was also inspired by how Mike has shown tremendous resiliency and continues to keep his son's name and spirit alive in his work today.
I think you'll find something in this episode that resonates.
Listen to the episode here: https://spotifyanchor-web.app.link/e/MkP4oeXO1xb
By Brian Murphy The clinical definition of diabetic ketoacidosis (DKA) is changing. CDI and coding professionals take…
Read More

Technology. I'm of a mixed mind. Broadly, I think technology is a blessing for humanity. It saves…
Read More