Finding your Ikigai: Nicole Fox on the art of balance amidst trauma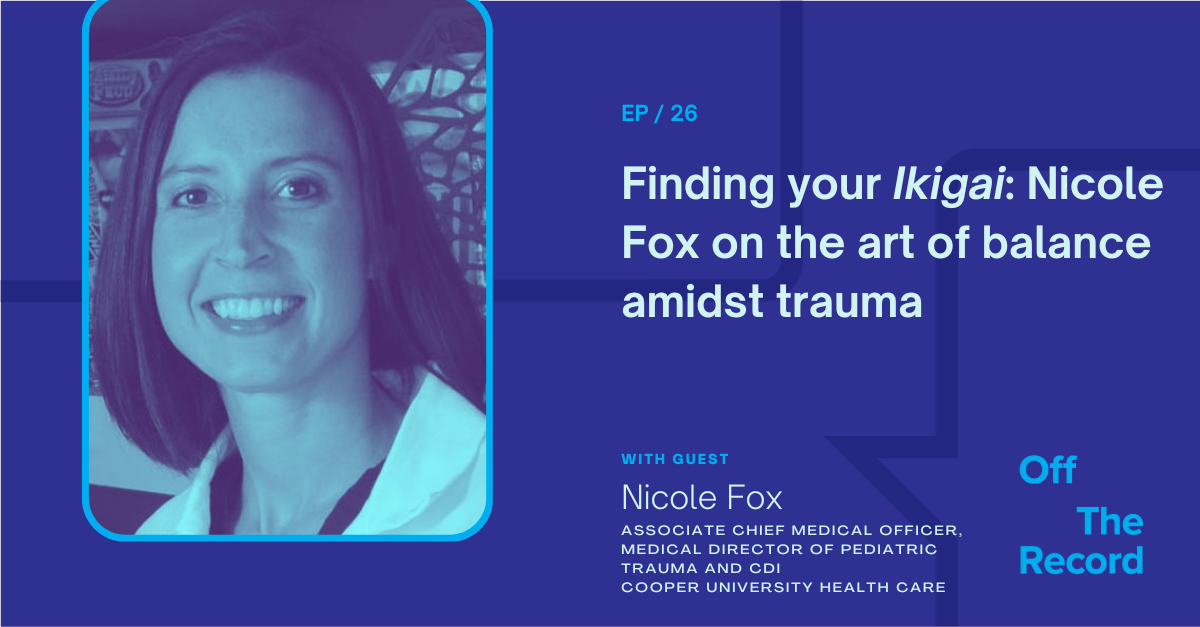 During my last conference as ACDIS Director in Oct. 2021 I had the pleasure of introducing Dr. Nicole Fox as our opening keynote. Nicole is not a professional lecturer but delivered one of the most impactful and inspiring speeches I've seen, covering her work as a pediatric trauma surgeon and her challenges as a single mother raising four children. 
Understatement: Nicole is an impressive human being. In addition to a heavy clinical rotation, she's the Associate Chief Medical Officer, Associate Professor of Surgery, and the Medical Director of pediatric trauma for Cooper University Hospital, a level 1 trauma facility in Camden, NJ. 
Oh, and she also serves as Medical Director for the hospital's CDI program. 
Nicole is recently back from a World Trauma Congress in Tokyo and was married this year. We get caught up on all of this on this episode of Off the Record. We cover:
Advances in trauma treatment and insights into Japanese culture and the philosophy of Ikigai
A "typical" day in pediatric trauma—instructive for any CDI professionals who might be grumbling why queries aren't always answered timely
Nicole's inauspicious path to CDI (she was one of the worst documenting physicians in her organization, with a number of outstanding charts so large you have to listen to believe) and unlikely path to medical director of CDI
Vendor shortcomings—overpromise and under-delivery 
Mortality reviews—getting started, common clarification opportunities, and the delicate dance of querying a physician to provide further detail on an expired patient 
Her favorite song for the OTR Spotify playlist, and our personal encounters with Steven Tyler of Aerosmith (hers is much, much cooler than mine)
Books mentioned on the show include:
Ikigai: The Japanese Secret to a Long and Happy Life,

Hector Garcia and Francesc Miralles 

Ichigo Ichie

(same authors) 

Wabi Sabi

, Beth Kempton
Enjoy!
#OTR
Listen to the episode here: https://spotifyanchor-web.app.link/e/CHIZwR8dSCb
By Brian Murphy In my ACDIS days we launched the CCDS-O (outpatient) certification in 2017. The response,…
Read More

Stop hating on hospitals. It's a sentiment most Off the Record podcast listeners would probably agree with. But…
Read More