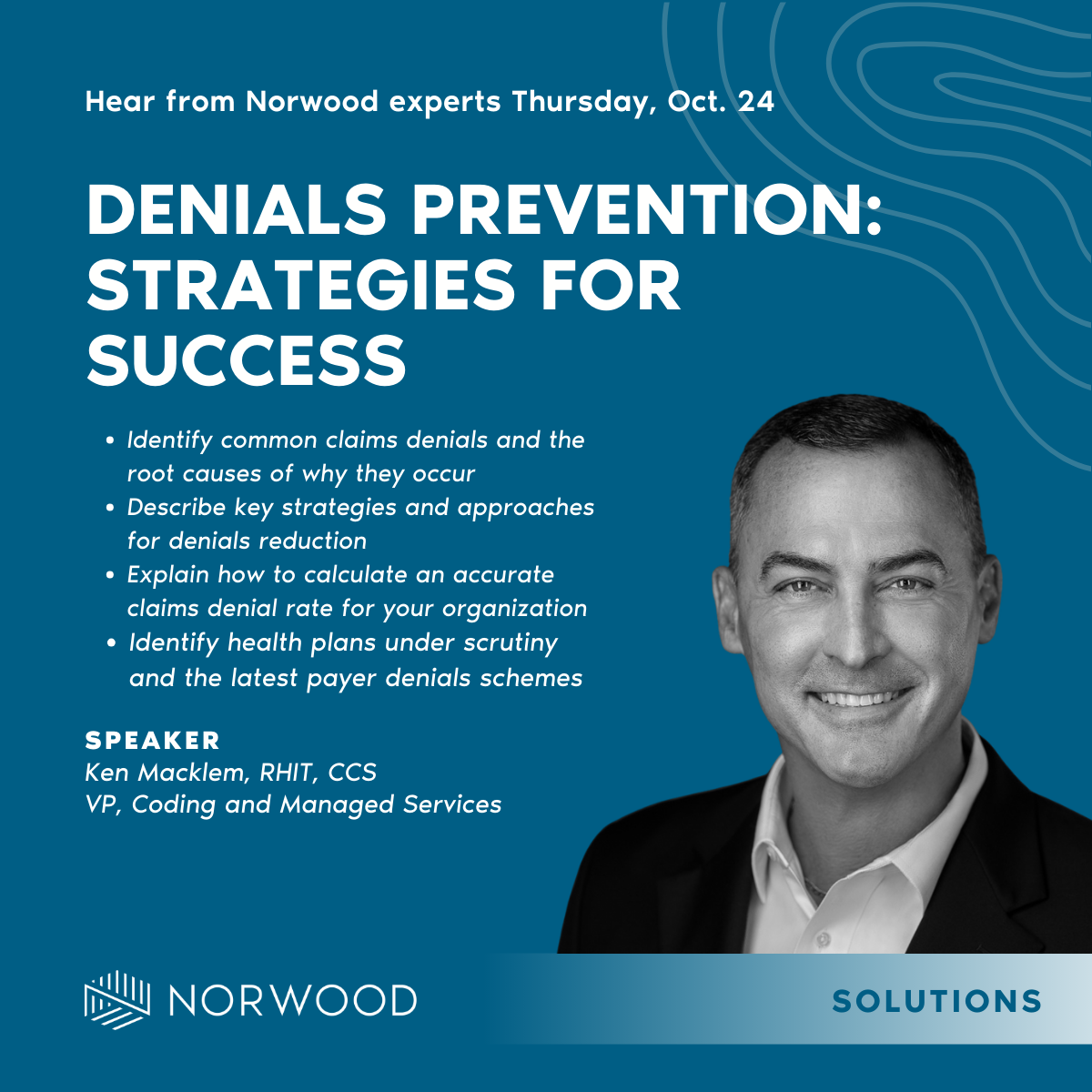 Norwood webinar
Denials prevention: Strategies for success
Thursday, Oct. 26, 1-2 p.m. EST.
Register here: https://my.demio.com/ref/1ieRImvdUAmWsxA0
Denials can bleed your organization dry.
A recent independent Kaiser Family Foundation survey found that insurers deny, on average, 18% of all claims. And for some private insurers, that number is far higher.
How can you make your organization a hard target and get back in black? By understanding the root causes of denials, your vulnerabilities, and the latest payer tactics. And stopping the bleeding at its source.
Join Ken Macklem, RHIT, CCS, VP of Coding and Managed Services, on Thursday, Oct. 26, from 1-2 p.m. EST for this free 60-minute webinar. Ken brings to bear more than 35 years of varied experience in healthcare, including denials management.
You'll leave with a firm grasp of where your organization's vulnerabilities lie, an understanding of the latest payer tactics for denying healthcare claims, and with proven strategies for denials mitigation and prevention.
Register here: https://my.demio.com/ref/1ieRImvdUAmWsxA0 
Learning objectives
After this educational activity, the learner will be able to:
Identify common claims denials and the root causes of why they occur
Describe key strategies and approaches for denials reduction
Explain how to calculate an accurate claims denial rate for your organization
Identify health plans under scrutiny and the latest payer denials schemes
About the speaker
Ken Macklem, RHIT, CCS, is Vice President of Coding and Managed Services for Austin, TX-based Norwood. In this role, Macklem oversees Norwood's coding quality and client support functions while supporting sales and recruiting from an SME perspective. He has been in the Health Information Management (HIM) field for more than 30 years and has worked at some of the largest healthcare providers in the country. Macklem began specializing in coding in 1990 as a coder and then branched out to HIM. and coding operations management. Over the last 20 years, he has focused on revenue cycle, CDI, risk adjustment, education, and EHR and coding level software systems administration.
Resources
Shore up the medical record and your hospital with these denials-busting documentation strategies: https://www.norwood.com/shore-up-the-medical-record-and-your-hospital-with-these-denials-busting-documentation-strategies/
By Brian Murphy The clinical definition of diabetic ketoacidosis (DKA) is changing. CDI and coding professionals take…
Read More

Technology. I'm of a mixed mind. Broadly, I think technology is a blessing for humanity. It saves…
Read More