"Bermuda triangle" of Medicare Advantage scrutiny signals alarm bells: Get your risk adjustment house in order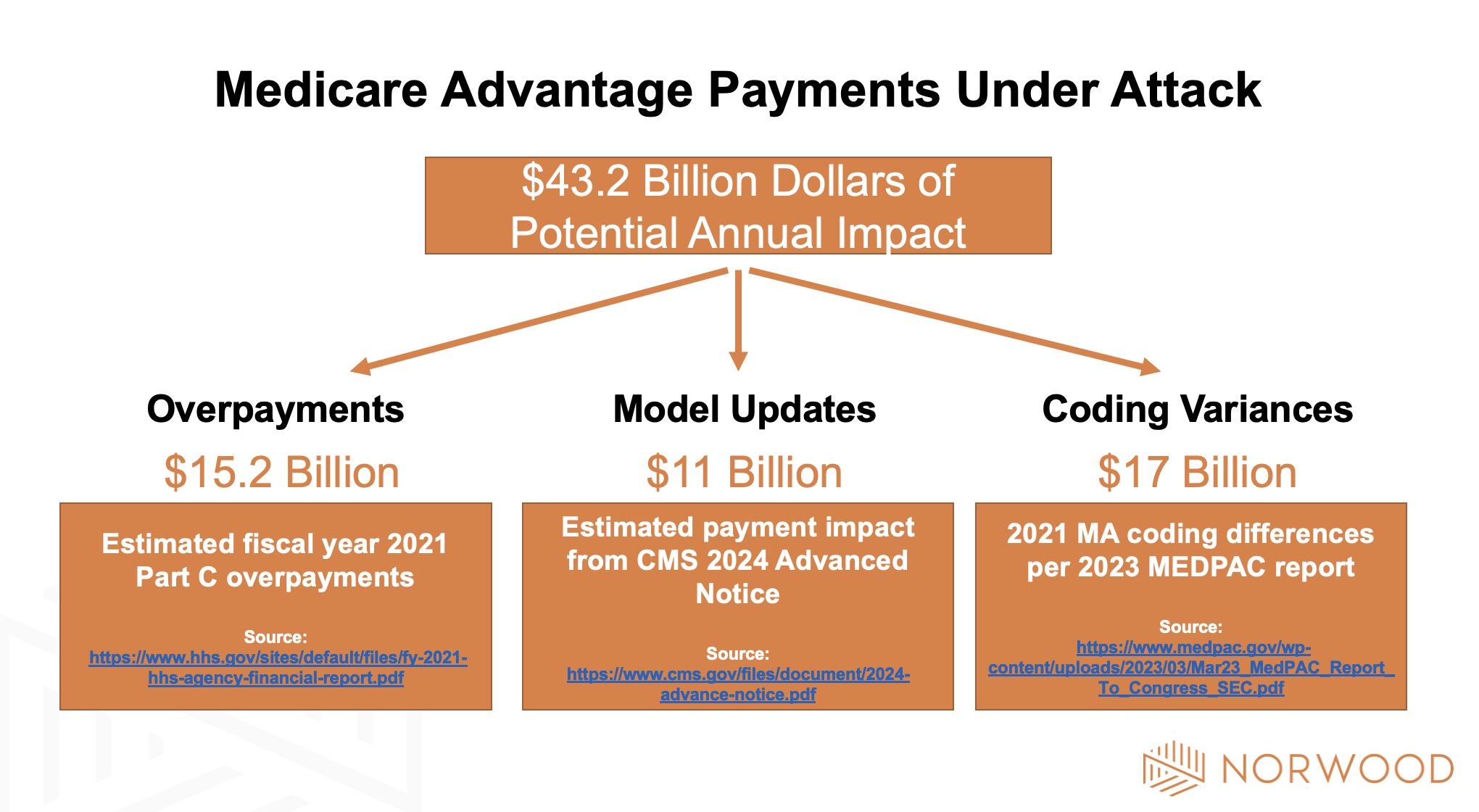 By Jason Jobes
Is healthcare prepared to sustain the onslaught of changes to Medicare Advantage payments? How will it impact the industry? How does it impact you?
At the beginning of this month I attended the RISE conference, which serves a community of established and emerging leaders in the Medicare Advantage and managed care space. Since then I have spent some time researching, reflecting, and connecting with our current and future partners.
I have concluded that Medicare Advantage is under increasing scrutiny, and the ramifications of the coming changes could be both significant and frankly, catastrophic.
As always, your engagement in sharing opinions and perspectives is greatly appreciated. If you like this content please follow me on LinkedIn and like/comment/share. Feel free to send me a direct email message, too.
On a flight home Friday I started reading the recently released MedPAC 2023 Report to the Congress: Medicare Payment Policy. Something striking jumped out at me in the executive summary: The report noted the tremendous coding differences between MA plans and fee for service patients. In particular the report highlighted that in 2021 there may have been $17 billion in payments to part C organizations based on coding variances.
My initial read was, so what? MA plans have resources and incentives to drive accurate complexity of patients. However, the more I read the more I wondered if it was too much, if fee for service got it less accurate, or whether it was a mix of the two. I perceived that the tone shifted from "variance" to concern of appropriate payment. The publication hit on a number of things that I wouldn't expect regulators to know as intimately as providers or payers.
Here are a couple relevant quotes:
"Moreover, MA plans' diagnostic coding practices inflate payments and undermine the goal of plans competing to improve quality and reduce costs."
"We continue to find that coding intensity varies significantly across MA plans and that increasing diagnostic coding allows some plans to offer more extra benefits, thereby attracting more enrollees and undermining plan incentives to improve quality and reduce costs."
MedPAC calls for CMS to take a heavier hand in reducing risk scores:
"Our analysis of 2021 data shows that higher diagnosis coding intensity resulted in MA risk scores that were about 10.8 percent higher than scores for similar FFS beneficiaries. By law, CMS reduces MA risk scores across the board to make them more consistent with FFS coding; CMS has the authority to impose a larger reduction than the minimum required by law but has never done so."
Ultimately the thought that bubbled up in my head was "uh oh".
I mentally triangulated all of the impacts I have been thinking about across the last six weeks. First we had the Risk Adjustment Data Validation (RADV) extrapolation ruling impact. Whoa… talk about a potential hit. Within a few days came the 2024 CMS Advanced Notice detailing the V24 to V28 proposed model changes.
Now, just six weeks later we have a scathing piece on coding variances from MedPAC.
What this "Bermuda Triangle" signals to me is a clear sign that MA payers and Medicare Advantage as a whole is under significant scrutiny. How will that scrutiny manifest itself and what will be the implications?
The best way I can summarize it is there is a clear shift in my mind from revenue maximization to revenue protection and risk score accuracy.
MA has the potential to be an improvement over Medicare FFS, if implemented properly. Paying capitated rates and incentivizing upstream health over downstream procedure volume rings true on paper.
But as it now stands, MA just looks like a costlier and less efficient Medicare, with a few exceptions. We have yet to define quality and properly incentivize quality outcomes. You can't continue to make patients look sicker on paper forever.
This is an early warning alarm to provider organizations. Act now to get your house in order.
Three immediate takeaways:  
1) Continue to focus on accuracy in risk scores
2) Implement a robust audit program to minimize risk
3) Plan for future payment reform
References:
There comes a point in our life when we all need to take an adventure. For most…
Read More

By Brian Murphy Unable to determine. Love it? Hate it? Or do you understand why it must…
Read More