A football mindset, delivered with a nurses' caring: Meet Robin Jones, Executive Director of Clinical Excellence, AdventHealth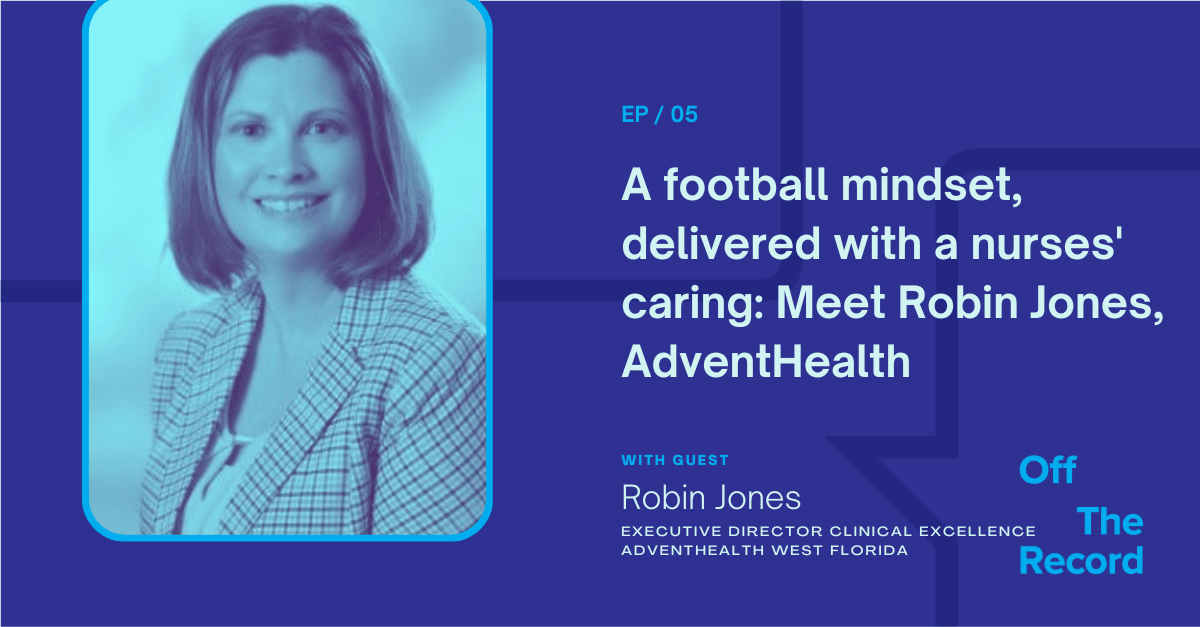 What prompts a nurse working at the bedside to get into clinical documentation integrity (CDI)? Long, draining shifts, and burnout, are among a few that I've heard. Others include a desire to put their clinical acumen and physician communication skills to work in a different, less physically demanding capacity, but one that still engages the intellect.
Robin Jones' origin story is one worth hearing. It's powerful, the most moving I've heard of to date on Off the Record. I won't spoil it any further, you'll have to listen yourself.
This was a great interview. I've known Robin for many years, and we get into some good topics and conversation.
While the move these days is toward 100% remote CDI and coding, Jones, Executive Director of Clinical Excellence for the 13 hospitals in the West Florida Division of AdventHealth, spearheads a quality-focused program, one that places a particular focus on Leapfrog and other quality measures. To help with these intensive initiatives, its CDI program is hybrid and maintains an onsite/physician-facing component.
Although she's left the bedside behind Jones has not abandoned nursing—far from it. In fact, she oversees all clinical education in the organization's West Florida division, including its graduate nurse residency program. She is actively giving back to the next generation of caregivers.
We cover her decision to pack up and move halfway across the country, from Ohio to Florida. That decision meant a minor recent brush with Hurricane Ian. We discuss introversion vs. extroversion (introverts—shout out!) and empty nesting.
Finally, Jones is a massive Cincinnati Bengals fan, who may or may not think Joe Burrow may be our nation's president one day. Or maybe that was the host egging her on. I don't recall.
What's most interesting about Jones' football obsession is not the Xs and Os, or painted game face, but the fact that she uses this great game to teach lessons and lead a diverse group of people. She offers up some great advice on leadership, giving me three bullets with practiced ease that each have a lot behind them.
Give episode 5 of Off the Record a listen, and please let me know what you think of this episode and the podcast in general. Guest ideas and other suggestions welcomed.
Why risk adjustment coders are more valuable than ever By Crystal May, CCS, CPC, CDEO, CPMA,…
Read More

By Brian Murphy How much evidence do you need, or does your organization require, before you send…
Read More