OIG targeted audits yield more immediate overpayments, but random audits may have more impact from extrapolation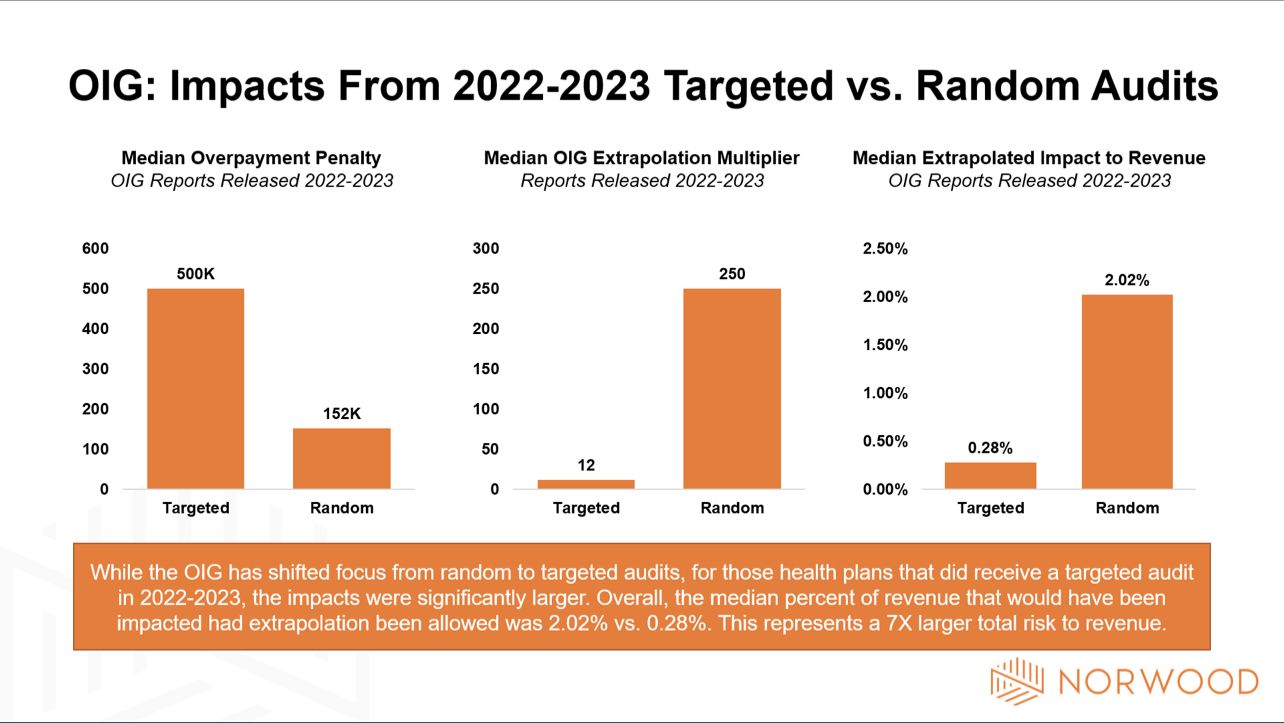 Continuing the review of my findings from the OIG's review reports (you can find links to parts 1 and 2 below), in this month's issue of Mid-Revenue Cycle Minute I am turning my attention to random audits. Overall, there were only three random audits concluded and shared by the OIG in 2022-2023. In fact, the last one released was on September 26, 2022, over 19 months ago. This represents a small sample size … but the findings are impactful.

In each of these three audits, the OIG looked at 200 patients with at least 1 HCC and had a date of service in 2015. Let me pause, to repeat this is from 2015. I think as an industry there has been a lot of change since then. We have seen improved documentation, but we have also seen significant pressure on risk score maximization during that period.

During these audits reviewers found error rates (unsubstantiated HCCs) ranging from 3% to 10%. What I found somewhat remarkable is the volume of HCCs per patient was between 7.35-7.89. This to me seems like a significant outlier of "random" selection, given that the percentage of patients with 6+ HCCs is relatively low.

Overall, the overpayment of these reviews was fairly low. The organization penalized the most had a $217k penalty. In fact, the median was only $152k compared to a median of $500k from targeted reviews.

Why is this important? Targeted reviews have been a hot item with the OIG. In a period where they couldn't extrapolate findings they were able to recoup a larger amount of overpayments from targeted audits. Now that extrapolation will be allowed beginning with 2018 dates of service, I project a resurgence of random audits. These random audits could increase impact by 7x, assuming the extrapolation methods previously used are supported.

Documentation continues to matter more and more. The emphasis on risk and risk-based payments continues to expand. Medicare Advantage and MSSP/REACH lives are at an all-time high. 
The takeaway? Ensure that your documentation will stand the test of time.
Remember that this is what we do at Norwood, and can help you with revenue protection.
Have a wonderful week!
—Jason Jobes, SVP, Solutions
Norwood
Prior entries in the OIG audit series
Part 1: Analysis of 17 OIG reports reveals compliance blueprints for Medicare Advantage and provider organizations: https://www.norwood.com/analysis-of-17-oig-reports-reveals-compliance-blueprints-for-medicare-advantage-and-provider-organizations/ 
Part 2: OIG audits of Medicare Advantage reveal four eye-opening stats:
https://www.norwood.com/oig-audits-of-medicare-advantage-reveal-four-eye-opening-stats/ 
By Brian Murphy In my ACDIS days we launched the CCDS-O (outpatient) certification in 2017. The response,…
Read More

Stop hating on hospitals. It's a sentiment most Off the Record podcast listeners would probably agree with. But…
Read More