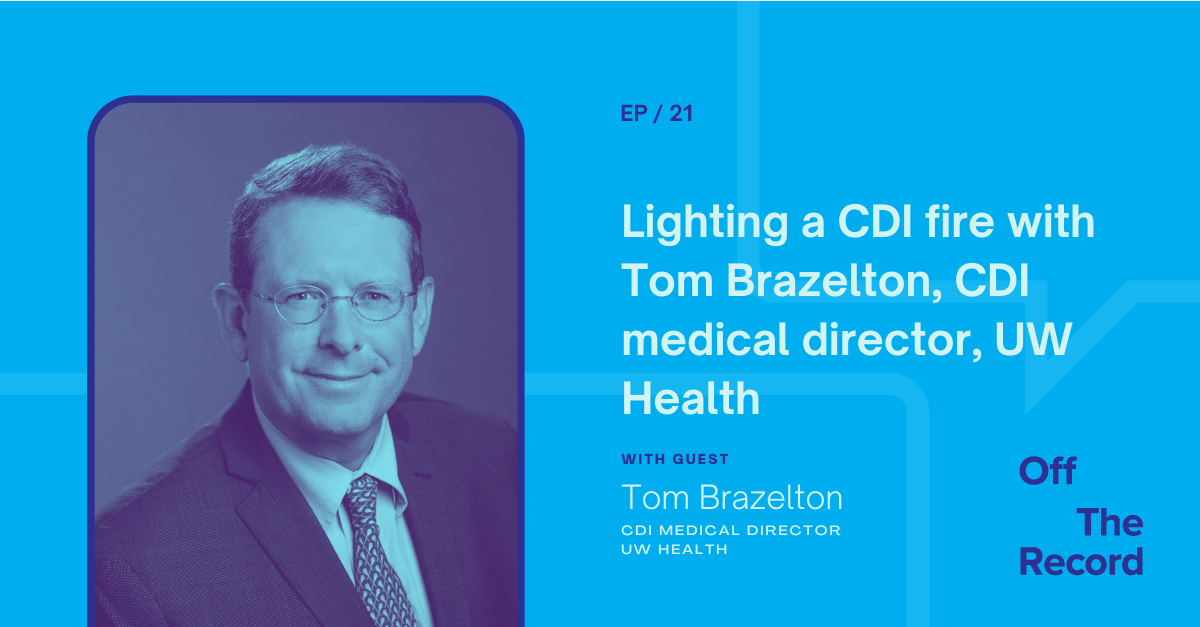 News flash: Many (most?) physicians aren't on board with CDI initiatives and coding practice. It's understandable; they're busy with patient care, and in their remaining hours are swamped with chart completion. Answering clinical queries and documenting with greater specificity is either seen as a chore or falls by the wayside entirely.
Sometimes it takes real-world impact to make the lightbulb go off and touch a match to tinder.
Tom Brazelton, MD is a practicing pediatrician and the CDI medical director for UW Health in Madison, Wisconsin. His passion for CDI was ignited by seeing how documentation and coded data was reflecting on organizational quality (and not in a good way).
So, he decided to get involved.
Brazelton helped a fledgling program comprised of four CDI professionals grow to more than 35 FTE across four hospitals, all while achieving a 98% physician response rate. His story of how achieving buy-in looked in a long-ago orthopedic surgery meeting is worth listening to alone.
Today CDI is in his blood. Brazelton was recently given an organizational award, "Superheroes in Scrubs," for his efforts, and he now makes the ACDIS conference a regular stop.
On this program we cover:
Brazelton's journey into clinical medicine, a day in the life of a PICU physician, and his path into CDI
The UW CDI/coding program today, including staffing and metrics, successes, and ongoing challenges
A counter-narrative to the belief documentation leads to provider burnout
A compelling vision for the CDI professionals of tomorrow
And of course, his top classic rock hit
Listen to the episode: https://spotifyanchor-web.app.link/e/Z8UirvJDOAb
By Brian Murphy In my ACDIS days we launched the CCDS-O (outpatient) certification in 2017. The response,…
Read More

Stop hating on hospitals. It's a sentiment most Off the Record podcast listeners would probably agree with. But…
Read More