Banner Health's Jami Woebkenberg: Managing the Constant Changes of Modern Healthcare Delivery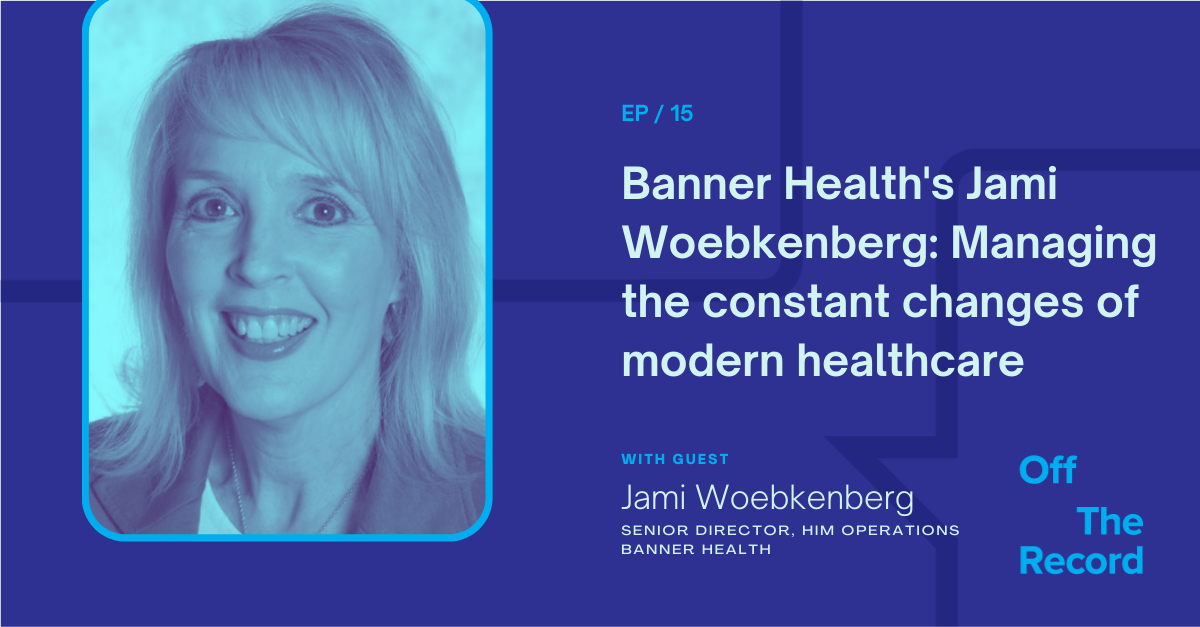 "The pessimist complains about the wind. The optimist expects it to change. The leader adjusts the sails." – John C. Maxwell
It's been said that there is no constant in life except for change. Jami Woebkenberg is proof.
Jami is the Senior Director of HIM operations at Banner Health. Or at least, that's her title now. She has had a few twists and turns over 19 years at the organization, which recently acquired a couple hospitals and clinics and added them to the system's EMR last September.
Banner is HUGE. Headquartered in Phoenix, AZ, today it operates in six different states and employs more than 52,000 team members across a dizzying array of services including insurance, ambulatory health centers, urgent care, acute care including three academic hospitals, behavioral health, children's post-acute services, pharmacy, labs, telehealth, and more.
It also employs 3,300 staff in revenue cycle alone, of which some 400 ultimately report up through Jami.
To put this all in perspective, when she started 19 years ago Banner had one hospital implementing one EMR.
"Banner is a constant state of growth," she says, which means a lot of change and a daily dose of the unexpected. For example, Banner recently re-orged, splitting up coding, CDI, and HIM operations into three separate verticals, which changed her job completely.
Jami is now knee-deep in records management, release of information, records storage, and EMR management including data integrity audits, information blocking, SDOH, privacy and security.
She's survived it all with a great attitude and a mindset shift, which we get into on this episode of Off the Record. We cover Jami's strategies for change management at a basic blocking/tackling level, including establishing a change management team and communicating changes to impacted stakeholders including physicians.
We also cover her helpful personal routines (morning walks), tips and tricks like calendar blocking and meeting free times, managing life-work (not work-life) balance, and strategies for introverts in leadership positions (introverts unite!). Jami recently served on the Board of Directors at AHIMA and is a past-president of AZHIMA, which meant she had to get comfortable speaking in front of crowds, in a hurry.
Listen to the episode here: https://spotifyanchor-web.app.link/e/Oe4ac8Usnyb
By Brian Murphy The clinical definition of diabetic ketoacidosis (DKA) is changing. CDI and coding professionals take…
Read More

Technology. I'm of a mixed mind. Broadly, I think technology is a blessing for humanity. It saves…
Read More