An EPIC discussion with Chris Petrilli, MD: Talking CDI, COVID, AI, and more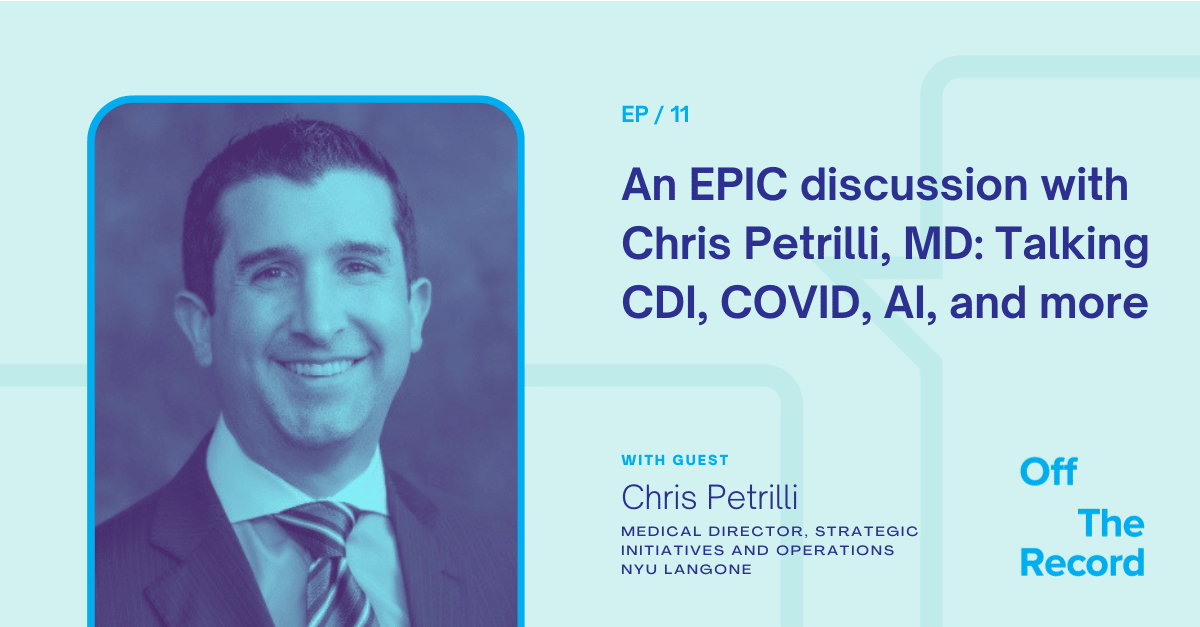 Chris Petrilli is the Medical Director of Strategic Initiatives and Operations at NYU Langone Health. He's an Associate Professor of Medicine at the NYU Grossman School of Medicine.
… and he happens to have been a one-time stand-up comedian, whose gift for gab and comedic timing I can attest to. And may have been on the butt end of, a time or two.
We get into all of this on a memorable episode of Off the Record.
One of the reasons I started this podcast was to bring more people, personality, and color into an industry dominated by sober and serious discussions on clinical and coding and compliance concerns. As it should … but behind the numbers are people, too
Chris is a hospitalist who administered live-saving care at the height of the COVID-19 pandemic, at the epicenter of the outbreak in New York City in the spring of 2020. We talk about his experiences during that scary, wild time.
The NYU Grossman School of Medicine is one of the most heartwarming and uplifting healthcare stories of which I'm aware, offering full-tuition scholarship to all current and entering students in its MD degree program. We talk about his experiences teaching young residents in this incredible environment.
And of course, we talk CDI and coding. Chris spearheaded a project to modify EPIC to capture diagnoses at the point of documentation, bypassing the need to invest in expensive CDI software. His lessons on maximizing the tools you might not realize you already have at your disposal are worth listening to.
We discuss what a CDI professional of the future looks like, what skills they will need to succeed, and why AI still greatly lags human intuition.
Since this is OTR we wrap up with some classic 80s rock talk. And Moonwalking. Seriously (or not so seriously).
I'm a believer in authenticity at work and Chris brings that, and more. Enjoy!
Full episode here: https://spotifyanchor-web.app.link/e/UA1L6sFaUwb
By Brian Murphy The clinical definition of diabetic ketoacidosis (DKA) is changing. CDI and coding professionals take…
Read More

Technology. I'm of a mixed mind. Broadly, I think technology is a blessing for humanity. It saves…
Read More