A win for clinical truth: How Vaughn Matacale and Vidant prevailed against the OIG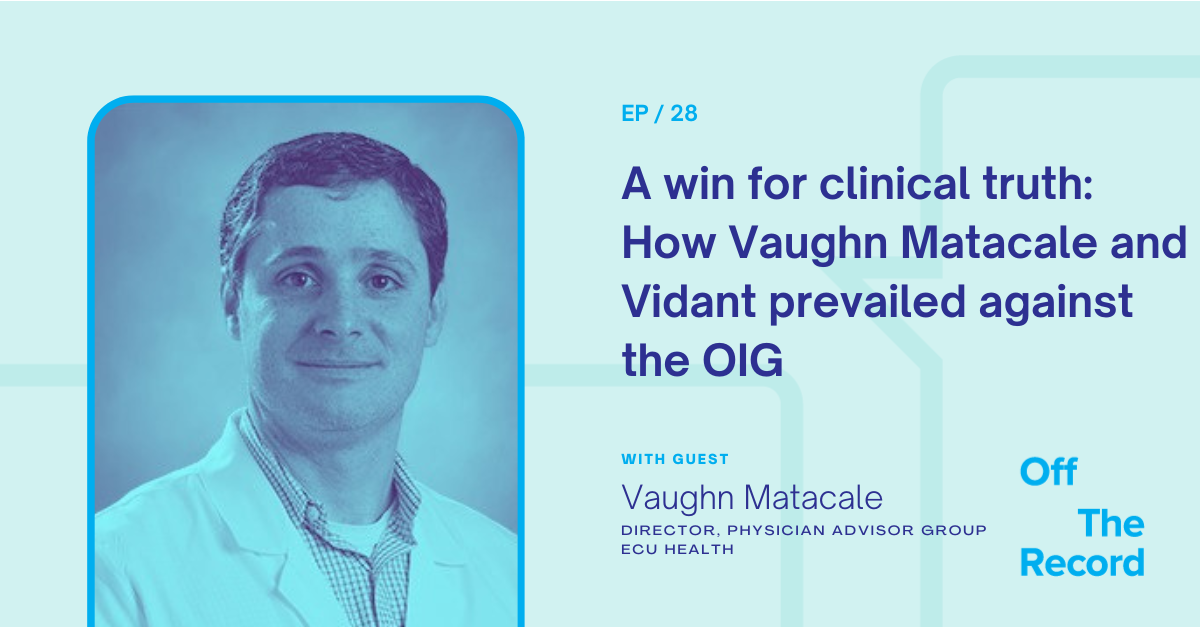 Listen to the episode here: https://spotifyanchor-web.app.link/e/PrC1cbFXCDb
Severe malnutrition is a major predictor of mortality/morbidity.
In a five-year observational study cited by the National Institutes of Health, malnourished patients showed an eight times greater risk of harmful falls during hospitalization as compared to well-nourished patients. Further, malnutrition is associated with increased risk for septic shock, acute kidney injury, stroke, and intubation.
So it's important to get severe malnutrition documented and coded. Unfortunately, doing so thoroughly and systematically can also make you an audit target.
Vidant Health—now part of ECU Health—found that out the hard way in January 2017, when it was the target of a high-profile audit by the Office of Inspector General (OIG). The report was scathing and seemed to indicate that Vidant had major problems reporting the condition.
What the OIG didn't know was that Vidant had Dr. Vaughn Matacale.
Vidant fought back. And ultimately prevailed. It was not just a major win for the hospital, but for clinical integrity and autonomy of hospitals nationwide.
We talk all about this landmark case on this episode of Off the Record. And get caught up on what's new with Vaughn, including his well-stocked beer cellar and a rock band recommendation for the OTR Spotify playlist I've never heard of before. How is that possible?
Tune in and listen as we cover:
The initial OIG records request and onsite visit
Reading the initial painful audit report with its 89% error rate: https://oig.hhs.gov/oas/reports/region3/31500011.pdf
Fighting back: An extraordinary response letter and building a case
Courtroom culmination (and celebration)
Advice for other hospitals: Shoring up severe malnutrition claims from audit and denial
Some broad discussion on the OIG and its work
Fun stuff including beer and music
Listen to the episode here: https://spotifyanchor-web.app.link/e/PrC1cbFXCDb
By Brian Murphy The clinical definition of diabetic ketoacidosis (DKA) is changing. CDI and coding professionals take…
Read More

Technology. I'm of a mixed mind. Broadly, I think technology is a blessing for humanity. It saves…
Read More