The art of defense: Legal lessons from an OIG audit of severe malnutrition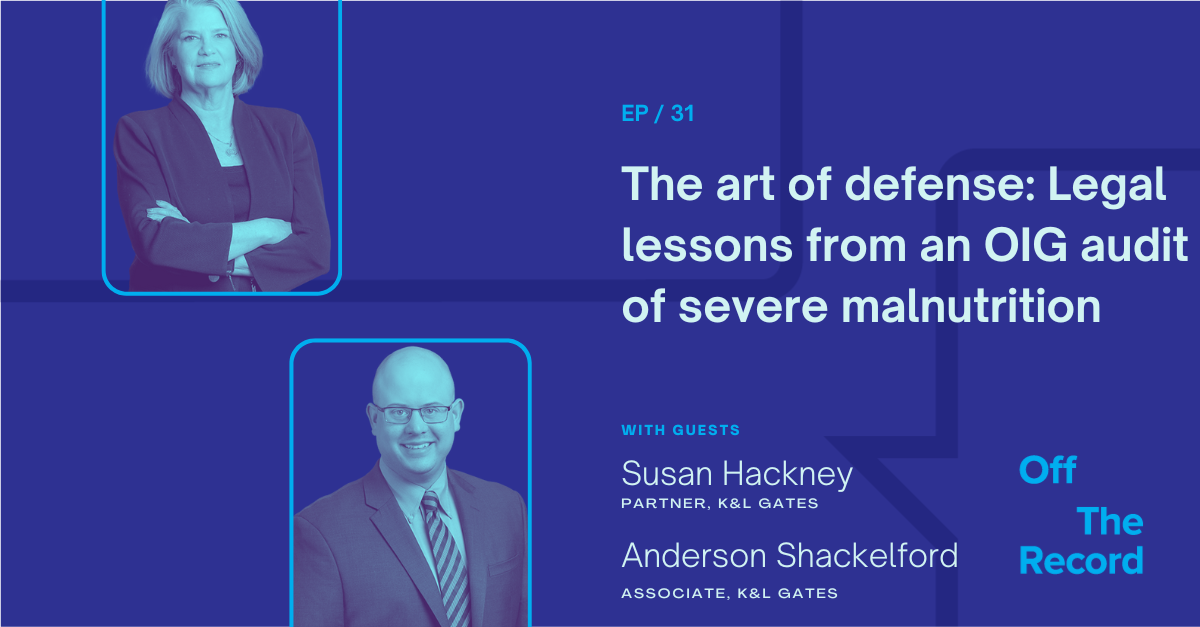 Off the Record recently featured a wide-ranging conversation with Vaughn Matacale, physician advisor for Vidant Health (now ECU Health), an organization that found itself on the receiving end of an OIG audit of severe malnutrition claims. 
On this episode I'm pleased to bring you a continuation of that story from the legal team that helped the organization win the case and strike a blow for clinical truth. 
It's not every day you get to hear a lawyer's perspective on coding and documentation. But this episode is a double-dose, featuring Anderson Shackelford and Susan Hackney with North Carolina-based K&L Gates LLP. 
On this show we cover:
Vidant case details, and fighting an uphill battle against a formidable foe

Weaknesses exposed in the OIG's independent audit team and lack of consistent clinical review criteria

Broad takeaways from the case, including best practices for making your organization a harder target

Other legal liabilities related to documentation and coding you might not be aware of

Open discussion: Should CDI programs be worried about being "better" than their peers at capturing certain diagnoses?
Listen to the full episode: https://podcasts.apple.com/us/podcast/the-art-of-defense-legal-lessons-from-an-oig/id1641739619?i=1000634915279 
Link to OIG audit report "Vidant Medical Center Incorrectly Billed Medicare Inpatient Claims with Severe Malnutrition": https://oig.hhs.gov/oas/reports/region3/31500011.asp 
#OTR
By Brian Murphy The clinical definition of diabetic ketoacidosis (DKA) is changing. CDI and coding professionals take…
Read More

Technology. I'm of a mixed mind. Broadly, I think technology is a blessing for humanity. It saves…
Read More