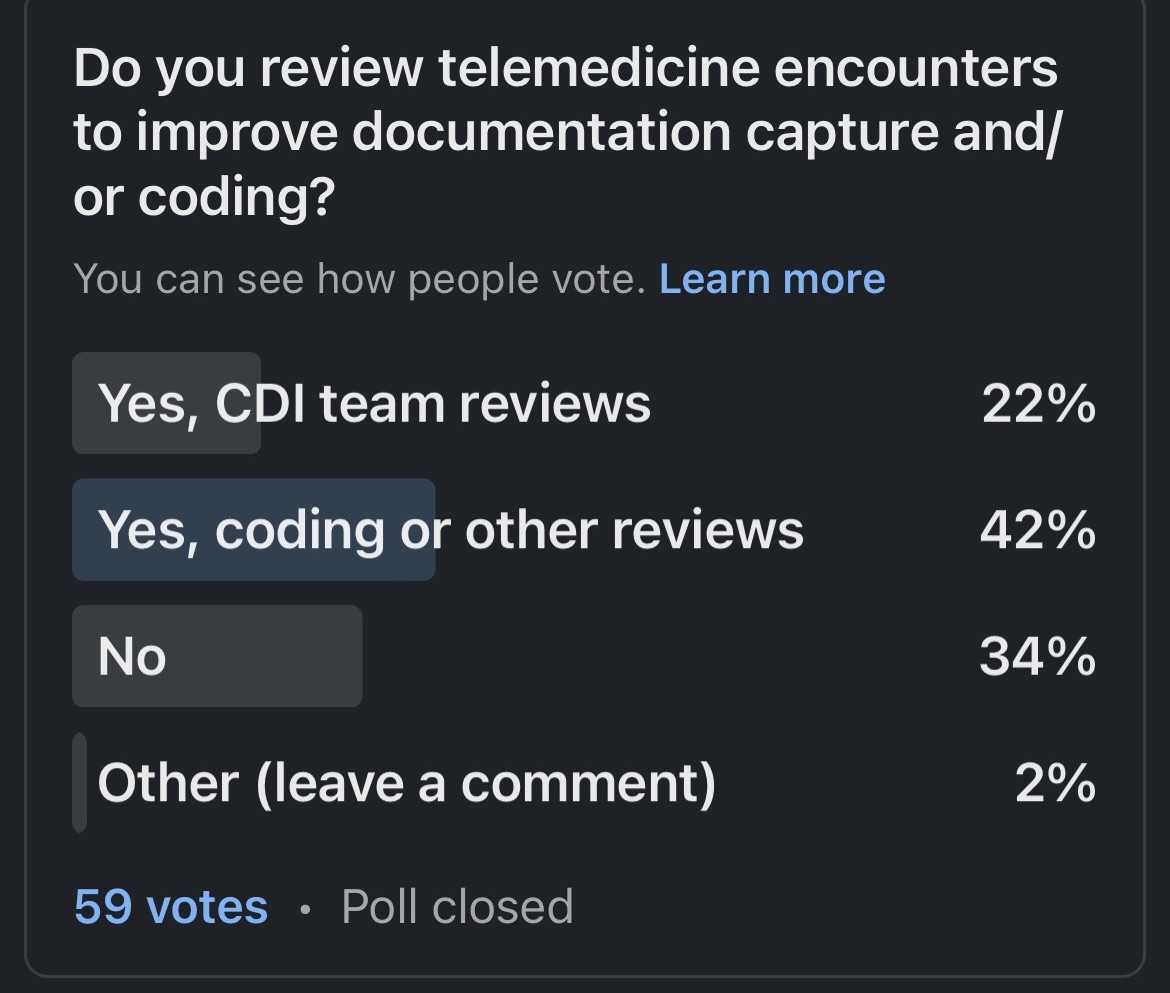 By Brian Murphy
Telehealth is in the news again, not all of it good. Below is a piece on Teladoc, which appears to be on the ropes after suffering a historic ($13.7B) loss in 2022.
But before we declare this service dead, let's review where we are.
I believe that telehealth has its place in the chain of wellbeing—and documentation integrity/coding efforts.
During the pandemic CMS significantly expanded and simplified billing and coding for Medicare fee-for-service claims (see link below). This included waiving the audio-video requirement for many telehealth services.
Some conditions seem well suited for telemedicine. Mental health is a great unrecognized burden and is the next frontier of overall health, and major depressive disorder is a frequent source of coding/CDI review. I was diagnosed with COVID last fall over the phone and prescribed medication, saving me a trip out of the house when I was fatigued and with fever (and, I didn't expose others).
The administration's plan is to end the COVID-19 public health emergency (PHE) on May 11. It remains to seen how the end of the PHE will impact both utilization and coverage of telehealth encounters. One sign that telehealth may not decline so precipitously is the closure of rural hospitals. These patients still need to be seen. Another is our general comfort levels with both video visits and technology in general (who hasn't used Zoom by this point)?
Don't count out Teladoc either. From the same article, Teladoc reaches more than 80 million through its products and expects to bring in between $2.55 billion and $2.68 billion in revenue in 2023–about 9% growth at the midpoint.
One organization I spoke with previously, Cooper University Health, has a good process in place to leverage its telemedicine to improve professional fee billing and coding and HCC capture. During eight months of the pandemic it hosted 80,000 telemedicine visits. Staff reviewed telehealth encounters pre-bill to ensure any diagnoses met MEAT criteria (i.e., was the condition monitored, assessed, evaluated, treated).
"History of" documentation was an opportunity, as many of these "past" conditions were still present and met MEAT. Conflicting documentation and of course absent diagnoses were other opportunities, along with morbid obesity.
I'm curious where people stand with telehealth, so I asked the following poll on LinkedIn. Here are the results:
Do you review telemedicine encounters to improve documentation capture?
Yes, our CDI team assists with review: 22%
Yes, coding or other review: 42%
No: 34%
Other: 2%
That 34% do not review telehealth encounters at all, and only 22% use CDI specialists (who are trained to spot documentation opportunities) equates to a huge missed opportunity for hospitals.
References
Medicare payment policies during COVID-19 (Telehealth.hhs.gov): https://telehealth.hhs.gov/providers/billing-and-reimbursement/medicare-payment-policies-during-covid-19
Teladoc reports historic net loss of $13.7B: https://www.healthcaredive.com/news/teladoc-historic-net-loss-137b-2022/643213/
Why risk adjustment coders are more valuable than ever By Crystal May, CCS, CPC, CDEO, CPMA,…
Read More

By Brian Murphy How much evidence do you need, or does your organization require, before you send…
Read More