From meeting planner to medical coder … meet UC Davis' star director of CDI and coding, Tami McMasters Gomez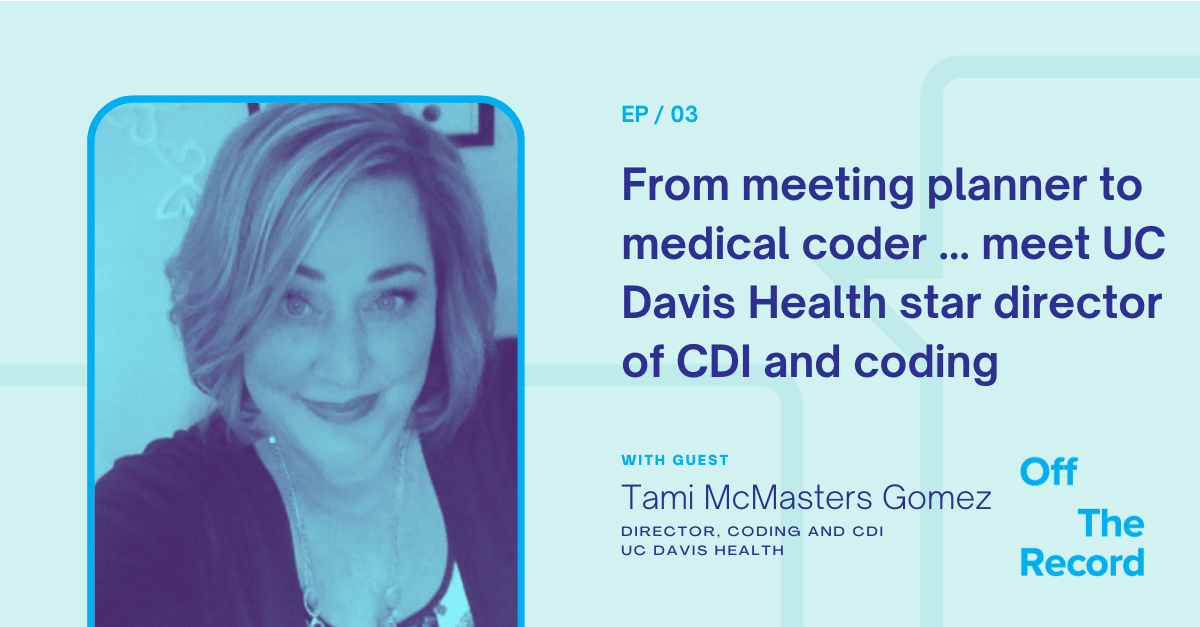 Tami McMasters-Gomez, BS, CCS-P, CDIP, CCDS, (MHL), is the Director of CDI and Coding Operations at UC-Davis Health in California. She has ultimate oversight of 80 employees, a team that is busy querying, coding, and abstracting data for a huge organization that includes its flagship 646-bed multispecialty academic medical center.
Tami is a bright light in the field in all respects, and the accolades have been rolling in. This past May she was given the Recognition of Professional Achievement Award from ACDIS at its national conference in Orlando, and the year prior her organization won ACDIS' first-ever award for Diversity in CDI award, as well as similar recognition for its efforts in diversity from Forbes Magazine.
It's hard to believe she ended up in this position after initially studying to be an event planner at Sacramento State University, majoring in marketing and communications and ultimately earning an event planning certification. But the world works in mysterious ways, and a part time job as a file clerk at a small rural hospital ultimately led her to health information management.
UC Davis Health is the real beneficiary of that decision. According to a 2010 study, UC Davis Health generates more than $3.4 billion in annual economic output and more than 20,000 jobs. The organization is ranked in 9 specialties in the U.S. News and World Report Best Hospitals—data that of course is derived, in part, from Tami's work.
We cover Tami's stops over 30 years in healthcare, including 17 (wow) in CDI. Along the way we discuss its outpatient CDI program roll out and progress, UC Davis' decision to discontinue DRG reconciliation (and why you might want to follow its lead), and also its strong commitment to diversity, both in the CDI/coding departments and organization-wide.
Get inspired by an HIM professional who is doing cutting-edge work and building a CDI department that is committed to diversity of race, gender, ethnicity, and professional backgrounds (RN, HIM, MD, and more).
We cover a lot more too, including the reality of CDI technology and how smart it actually is (UC Davis is a big adopter in this space, and is currently piloting provider-facing tech), tips and suggestions for progressing from coding into leadership, the importance of CDI-coding collaboration, and the usual fun asides.
Despite her considerable responsibilities Tami hasn't given up on her event planning dreams, and is actively looking to buy a wedding venue in California. I can neither confirm nor deny if the weddings will be CDI themed. Stay tuned.
Take a trip with me to the west coast for episode 3 of Off the Record. I hope you enjoy it.
By Brian Murphy The clinical definition of diabetic ketoacidosis (DKA) is changing. CDI and coding professionals take…
Read More

Technology. I'm of a mixed mind. Broadly, I think technology is a blessing for humanity. It saves…
Read More