CDI-ing like its 1999: A conversation with Atrium Health Wake Forest Baptist director Tamara Hicks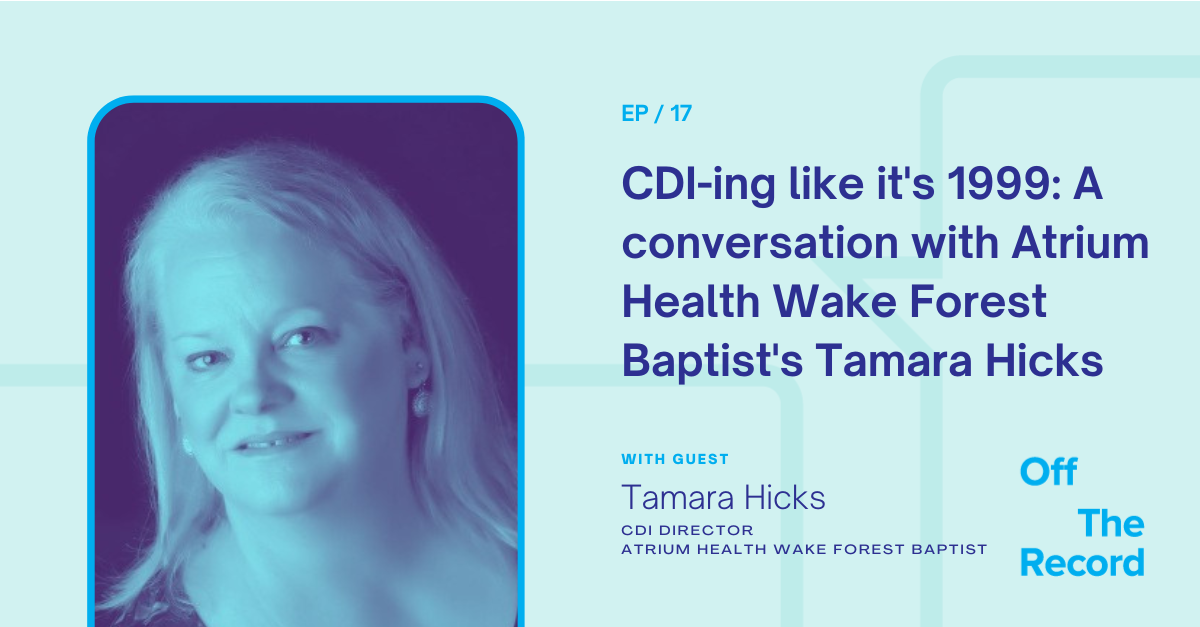 How long have you been in CDI, oh listener? 
Three years, five, 10? Maybe as many as 16, if you started back when CMS adopted MS-DRGs and ACDIS began, in the hazy, pre-Tik-Tok days of 2007? 
My most recent guest on Off the Record has been in CDI for 24 years, starting in 1999. Longer than she served at the bedside as a nurse. It's possible some of my listeners are 24. 
She's been there, done that, but still driving her program forward, never settling. 
Tamara Hicks is the Director of Clinical Documentation Excellence at Atrium Health Wake Forest Baptist in Winston-Salem, North Carolina. She's a two-time member of the ACDIS advisory board, served on the ACDIS CCDS certification committee, and in 2019 won CDI professional of the year from that organization. 
She's also acquired the nickname Grandmother of CDI. So it behooves us to listen to her wisdom.
We get into that deep pool of experience on this episode of Off the Record, covering the following topics:
What was life like for a CDI professional in the 20th century?
A day in the life of Tamara Hicks and the Atrium Health Wake Forest CDI department
Is there such a thing as "advanced CDI"? If so how do you define that, and practice it?
Career ladders for staff retention
What is the ideal CDI candidate (if you could clone one, who would they be)?
Much more, including Tamara's family of dogs, cruise obsession, and favorite classic rock hit
Listen to the episode here: https://open.spotify.com/episode/0R0C3KWpv5EAFYnc7GZGp6?si=LCiezCT-QNuVdoqxI782Xw
By Brian Murphy The clinical definition of diabetic ketoacidosis (DKA) is changing. CDI and coding professionals take…
Read More

Technology. I'm of a mixed mind. Broadly, I think technology is a blessing for humanity. It saves…
Read More