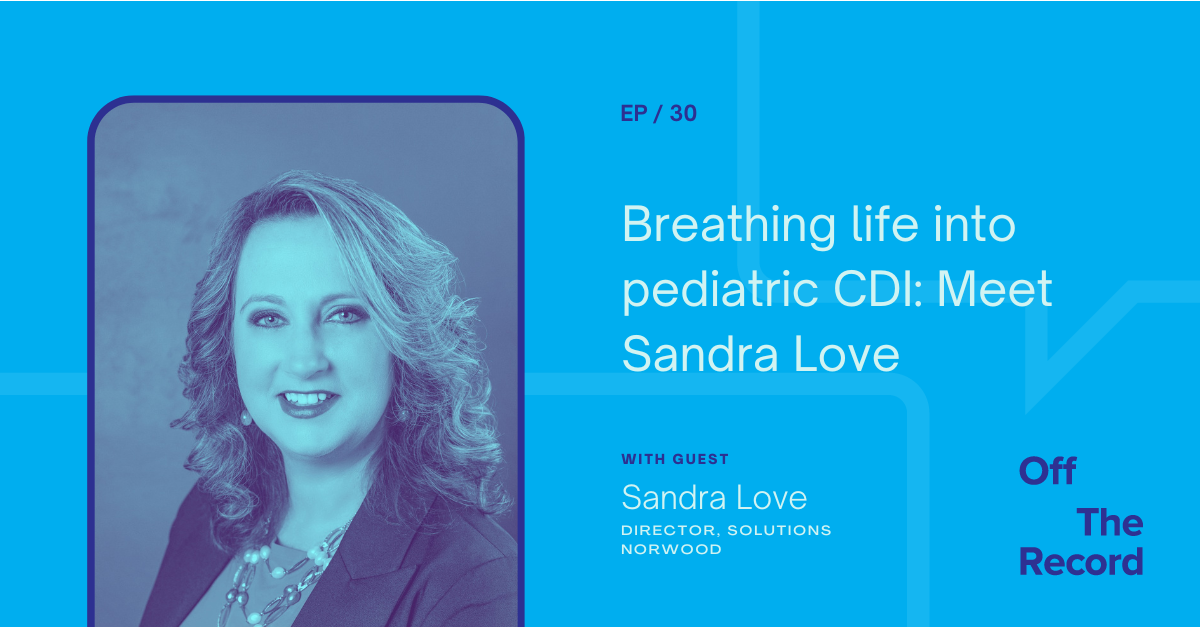 Listen to the full episode here: https://spotifyanchor-web.app.link/e/bW3gRsyzlEb 
As a non-clinician I can think of few things more terrifying than having responsibility for the life of a fragile newborn in your hands, and your hands alone. 
Welcome to the early nursing career of Sandra Love. 
Sandra served as a labor and delivery nurse in rural North Carolina and survived some harrowing experiences that continue to inform her work today as Director of Solutions for Norwood. Sandra learned that infants are not just small adults—they have their own unique clinical profiles. 
That same axiom holds true for documentation and coding, too, which is often why pediatric CDI programs fail. But there are some very real opportunities that you're leaving on the table without a pediatric focus. 
We talk about all of that on this episode Off the Record. If you have a pediatric CDI program or are thinking expanding into one, this is a show you'll want to listen to.
Topics include:
Sandra's early experiences working in a level 2 nursery with specialty support a long way away 

Transition into adult medicine and eventually CDI at Wake Forest 

Why most hospitals are off the mark with pediatric CDI

Documentation clarification opportunities in the pediatric space

Suggestions for engaging pediatric providers and obtaining buy-in

And of course, the latest addition to the Off the Record Spotify playlist
Listen to the full episode here: https://spotifyanchor-web.app.link/e/bW3gRsyzlEb 
By Brian Murphy The clinical definition of diabetic ketoacidosis (DKA) is changing. CDI and coding professionals take…
Read More

Technology. I'm of a mixed mind. Broadly, I think technology is a blessing for humanity. It saves…
Read More