Back from ACDIS, talking value-based care and outpatient CDI with Jason Jobes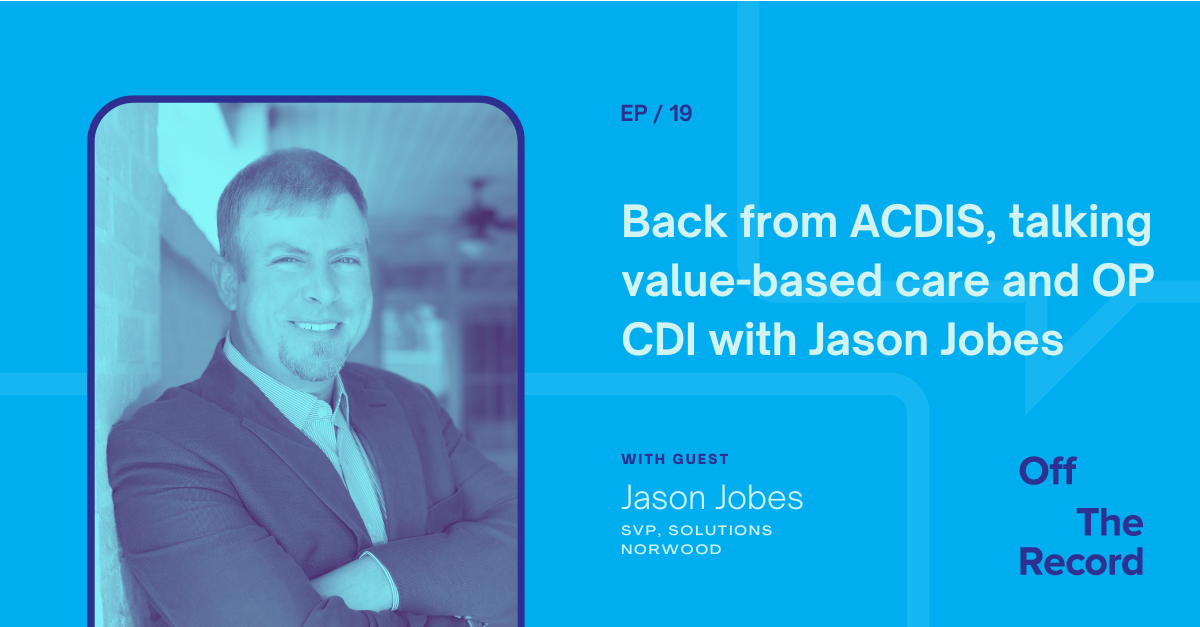 By Brian Murphy
After a short break that was not really a break because we were on the road at ACDIS 2023 we're back with another episode of Off the Record.
I'm joined by fellow conference-goer, presenter, and colleague Jason Jobes, senior vice president of solutions at Norwood.
On this show we dive into the recently concluded ACDIS 2023 national conference in Chicago, which was my 15th (yes, I've been to every single one from 2008-present, not including the virtual event of 2020, and I think I'm the only person on the planet who can say this) and Jason's first. We had a blast, learned a lot, and came back recharged and optimistic for the future of the CDI profession. I also had the honor of remembering my colleague Melissa Varnavas with a Day 1 keynote.
We then switch gears to outpatient CDI and the ongoing transition to value-based reimbursement with a focus on Jason's session from the ACDIS Outpatient Symposium, entitled The Importance of Risk Adjustment in Value Based Settings.
We cover the following topics:
Payer relationships, and how CDI and coding leaders and their respective organizations should approach payers with whom they have had (and likely still have) an adversarial relationship, but now find themselves in a shared savings agreement that rewards cooperation.
The importance of patient scheduling, including leveraging your case managers, social workers, and population health team to get patients in to be seen. Both to manage their health in less expensive settings but also to capture risk. Annual Wellness Visits can play a large role here.
What if you don't have an OP CDI program? How to figure out where your opportunities lie and where to start. Hint: It's about understanding and seeing your patients, knowing what risk program they are in and what clinical conditions they have, and seeing them at least annually. And monitoring process and outcome metrics to ensure that patient complexity is fully captured.
The Medicare Advantage 2024 Advance Notice final rule and the anticipated impact of the transition from V24 to V28 of CMS-HCCs over three years (2024-2026).
The current landscape of intense regulatory scrutiny, and the corresponding shift from revenue maximization/capture to compliance and revenue protection. We discuss Jason's recent series on LinkedIn analyzing the seemingly endless stream of OIG audits of Medicare Advantage payers on presumed overcoding, including ongoing patterns of (likely) error.
And of course, we discuss Jason's top 90s rock/pop hit. He's a little younger than me so I let him get into the music of his youth, rather than mine—the 80s. Against my better judgement.
Listen to the episode here: https://spotifyanchor-web.app.link/e/cQfsO6rP2zb
Why risk adjustment coders are more valuable than ever By Crystal May, CCS, CPC, CDEO, CPMA,…
Read More

By Brian Murphy How much evidence do you need, or does your organization require, before you send…
Read More