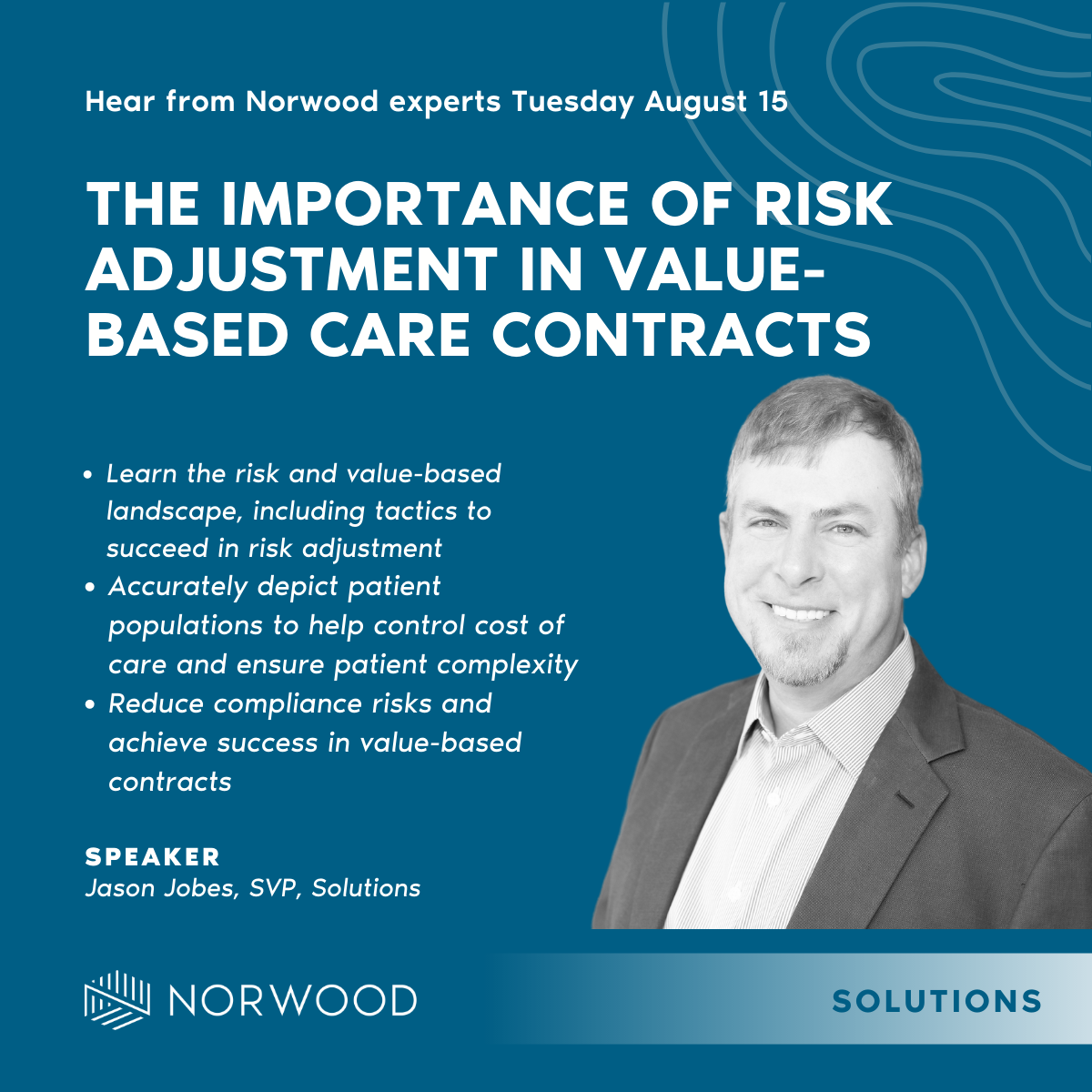 Tuesday, August 15, 1-2 p.m. EST
Speaker
Jason Jobes, BA, MSPA, SVP Solutions, Norwood
Register here: https://my.demio.com/ref/598koA0hE1w2zFHB 
It's no secret—healthcare reimbursement is evolving before our eyes, from traditional fee-for-service to value-based care/pay for performance. Medicare Advantage is poised to surpass traditional Medicare this year in the number of covered lives.
Good documentation remains as important as ever in this new environment, but there are several critical differences when working within a risk-based contract that includes capitated payment. Formerly adversarial payer relationships become partnerships, and patient scheduling becomes paramount in order to capture HCCs that reflect patient complexity. All of which is under heavy scrutiny from the likes of the Office of Inspector General.
Join Norwood SVP Solutions Jason Jobes on Tuesday, August 15th for this free 60-minute webinar. We'll cover:
Payer relationships

, and how CDI and coding leaders and their respective organizations should approach payers with whom they have had (and likely still have) an adversarial relationship, but now find themselves in a shared savings agreement that rewards cooperation.
The importance of patient scheduling

, including leveraging your case managers, social workers, and population health team to get patients in to be seen. Both to manage their health in less expensive settings but also to capture risk. Annual Wellness Visits can play a large role here.
What if you don't have an OP CDI program

? How to figure out where your opportunities lie and where to start. Hint: It's about understanding and seeing your patients, knowing what risk program they are in and what clinical conditions they have, and seeing them at least annually. And monitoring process and outcome metrics to ensure that patient complexity is fully captured.
The Medicare Advantage 2024 Advance Notice final rule

and the anticipated impact of the transition from V24 to V28 of CMS-HCCs over three years (2024-2026).
The current landscape of intense regulatory scrutiny

, and the corresponding shift from revenue maximization/capture to compliance and revenue protection. We discuss Jason's recent series on LinkedIn analyzing the seemingly endless stream of OIG audits of Medicare Advantage payers on presumed overcoding, including ongoing patterns of (likely) error.
If you missed this super well-received session at the 2023 ACDIS Symposium/Outpatient CDI now's your chance to hear it again.
Register here: https://my.demio.com/ref/598koA0hE1w2zFHB 
Learning objectives
Learn the risk and value-based landscape, including tactics to succeed in risk adjustment

Accurately depict patient populations to help control cost of care and ensure patient complexity

Reduce compliance risks and achieve success in value-based contracts
By Brian Murphy In my ACDIS days we launched the CCDS-O (outpatient) certification in 2017. The response,…
Read More

Stop hating on hospitals. It's a sentiment most Off the Record podcast listeners would probably agree with. But…
Read More