New CMS proposed rules increase transparency, mental health treatment, but provide little additional payment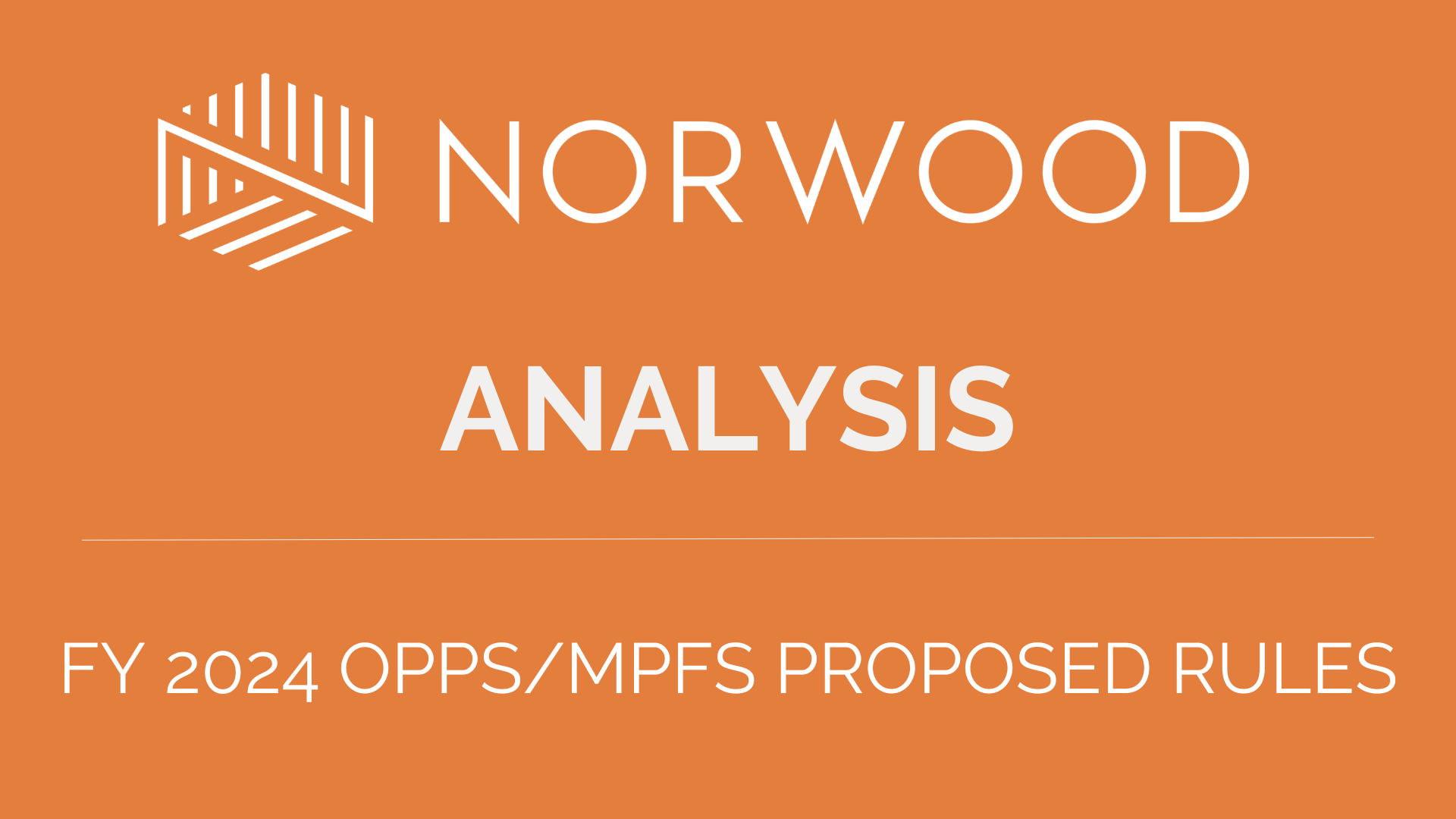 CMS on Thursday July 13 released the 2024 outpatient prospective payment system (OPPS) and Medicare Physician Fee Schedule (MPFS) proposed rules … and as expected these were met with howls of outrage from the two leading impacted stakeholders, the American Medical Association (AMA) and the American Hospital Association (AHA).
I can't say I blame either party.
CMS has proposed a net 2.8% increase for hospital outpatient services, a number that seems inadequate at best in the face of rampant inflation, escalating salaries, and other margin-eating expenses.
Somehow CMS proposed a net 3.34% cut to physician fees; predictably and understandably the AMA has responded with a statement declaring the proposed reduction, "almost biblical in its impact. Seven lean years that include a pandemic and rampaging inflation. Physicians need relief from this unsustainable journey."
This is the first time I've heard "biblical" used to describe the impact of a proposed CMS rule. There is a first for everything.
All interesting, but there's several other items of note as well.
Commitment to pricing transparency. CMS is upping its game on requiring hospitals to post prices of common procedures and supplies (x-rays, drugs, clinic visits, etc.) in an effort to drive down costs. Patients could review these procedures and bargain shop (somewhat; emergency care and rural hospitals are obviously not "shoppable"), or hospitals could advertise that they cost less than their competitor down the street. While transparency is a good thing, the problem is that current pricing data is very hard for a layman to interpret, so the new CMS proposals would require that hospitals use one of several standardized formats for the machine-readable files; revise the oversight and enforcement process, including hospital attestations of compliance; and establish new website requirements intended to ease navigation of hospital price transparency files. In addition, CMS is seeking comments on ways it can better align various hospital and insurer price transparency policies.
Commitment to mental health. Our nation has a mental health crisis; not necessarily new (though exacerbated by technology, COVID isolation, etc.) but more visible and pressing. To combat this CMS has floated multiple provisions that would improve access to behavioral health services, including a new benefit for Intensive Outpatient Programs, a new paid CPT code 90853 for remote group psychotherapy, and technical refinements to the existing coding for remote mental health services to allow for multiple units to be billed daily. CMS also proposed to delay the in-person visit requirement for remote outpatient mental health services until the end of 2024, thus extending access through the likes of telehealth.
Proposed OPPS payment for dental services. Not a lot to say other than I'm glad to see CMS stepping up here by assigning 229 HCPCS codes describing dental services to various clinical APCs.
Social determinants of health. The OPPS proposed rule includes coding and payment proposals for "addressing unmet health-related social needs that can potentially interfere with the diagnosis and treatment of medical problems." This includes the introduction of separate coding and payment for community health integration services. Also included are coding and payment availability for social determinants of health (SDOH) risk assessments.
Due to the volume and intensity of said AMA and AHA howls we cannot take anything in these rules as official and should wait until the final rules are issued in September, following comment period (both rules are open for comment through Sept. 11)
References
Read the OPPS proposed rule here: https://public-inspection.federalregister.gov/2023-14768.pdf?mkt_tok=NzEwLVpMTC02NTEAAAGM8J6m1SsrwSdqSHuDdgVdGHss7Dt6Q5kasmuY8lQYPtPYF9dpeWUW0ElkEjQBK2_WlXqYuL8c24-dw01KCpE
Read the MPFS proposed rule here: https://public-inspection.federalregister.gov/2023-14624.pdf?mkt_tok=NzEwLVpMTC02NTEAAAGM8J6m1dN5vat9zBbVZJHsSedjc9VoZMQ9r-FaCX_kTMVlEnSYdXD3beTHrMGjX2KLFjfZC-J1mfATwR4zsU4 
AHA commentary on OPPS: https://www.aha.org/news/headline/2023-07-13-opps-rule-cms-proposes-increasing-payment-rates-28-modifying-price-transparency-rules 
By Brian Murphy In my ACDIS days we launched the CCDS-O (outpatient) certification in 2017. The response,…
Read More

Stop hating on hospitals. It's a sentiment most Off the Record podcast listeners would probably agree with. But…
Read More