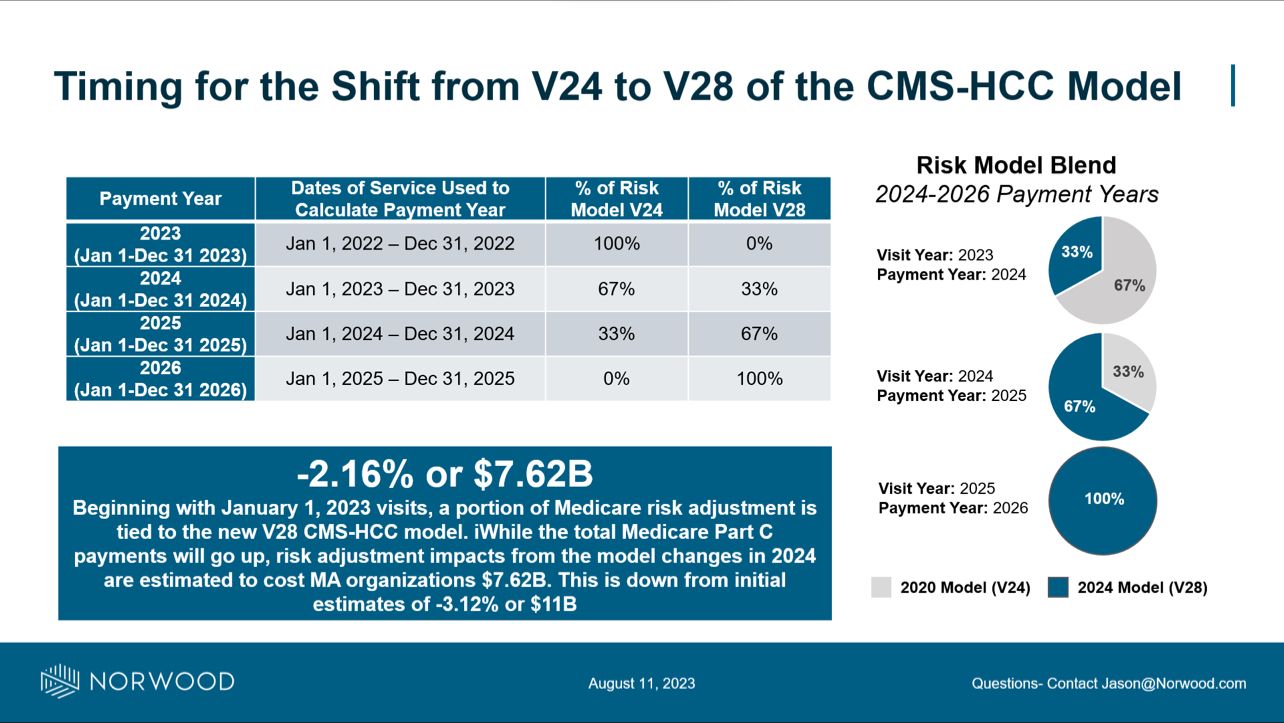 When does CMS-HCC V28 take effect? Confused? You are not alone. I am going to break it down to ease some of the confusion around the new risk model.
Thanks for reading. If you find this helpful, please reply with a comment, follow me on LinkedIn, or share this email as that is the easiest way to help support the work and research that Norwood is doing.
Recently I have seen an uptick in the confusion around when V28 of the CMS-HCC risk model takes effect. To be fair, it is confusing. CMS doesn't make things easy by referring to dates in time differently depending on the situation.
A bit of background. On 2/1/23 CMS issued its Payment Year 2024 advanced notice. The payment year is the year in which the premiums are paid to the organization. That notice alerts organizations of the rules for the payment period, in this case beginning 1/1/2023.
Within that rule CMS introduced a revised CMS-HCC risk model. This new risk model is referred to as V28, whereas the model we've been using since 2020 is V24. The new model has some sweeping changes including increasing the number of categories from 86 to 115, while decreasing the diagnoses that risk adjust from 9,797 to 7,720.
It is also, when fully implemented, expected to decrease risk scores by 3.10%.
After the advanced notice comes a comment period in which individuals can submit questions to CMS. Once that period closes, CMS reviews the comments and issues a final rule. For payment year 2024, this rule was released on 3/31/23. It finalized the regulations for payments, including various modifiers, for payments issued between 1/1/24 to 12/31/24.
So when does this go into effect? Because the verbiage is titled "2024 Announcement," many organizations have associated that with a 1/1/2024 start. However, premiums paid in 2024 are based on 2023 dates of service. The model is built so that current year documentation, coding, and claims submission drives next year's premiums.
That means that a rule finalized on 3/31/23 is retroactive back to 1/1/23. Similar confusion occurred with V24 when dementia was introduced. If you are treating Medicare patients in 2023 then 33% of the risk score derived will be from V28, and therefore the rules are already in effect.
The accompanying graphic aims to put this on one page. However, below you will find pictures and documents directly from the CMS website. If your organization needs help understanding the rule, the impacts, and how to succeed in value-based care, don't hesitate to reach out.
If you see it differently, let's discuss. It is only fair to make sure everyone involved in the space, myself included, is working from the same rulebook. Before writing this post I ran it by multiple folks I trust in the industry on these topics to make sure there was alignment.
Additional resources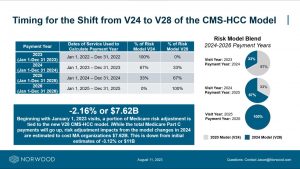 By Brian Murphy In my ACDIS days we launched the CCDS-O (outpatient) certification in 2017. The response,…
Read More

Stop hating on hospitals. It's a sentiment most Off the Record podcast listeners would probably agree with. But…
Read More